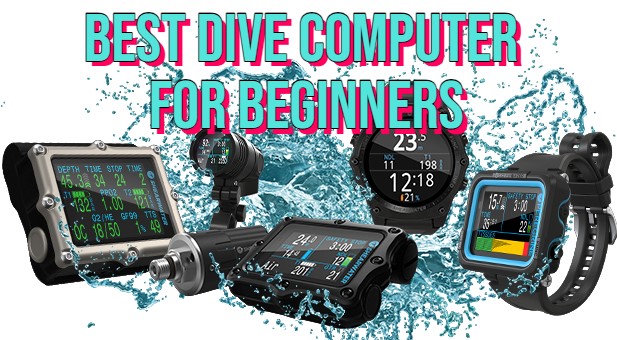 For beginners just starting their diving journey, selecting the right dive computer can be a daunting task. That's why we have researched and compiled a list of the best dive computer for beginners best dive computers specifically tailored for beginners.
They offer user-friendly interfaces, reliable functionality, and intuitive features to support new divers as they explore the underwater world. In this guide, we will present the top choices for beginner dive computers, providing key features, benefits, and considerations to help you make an informed decision and embark on your diving adventures with confidence and peace of mind.
List of best dive computers for beginners
Let's dive in…
1# Aqua Lung i200C
The Aqua Lung i200C Dive Computer is our top choice for the best dive computer for beginners, perfect for those who are just starting out in the exciting world of diving. This intuitive and feature-rich device makes dive logging and planning easier than ever, providing you with vital information at your fingertips, while also allowing you to focus on your surroundings.
Key Features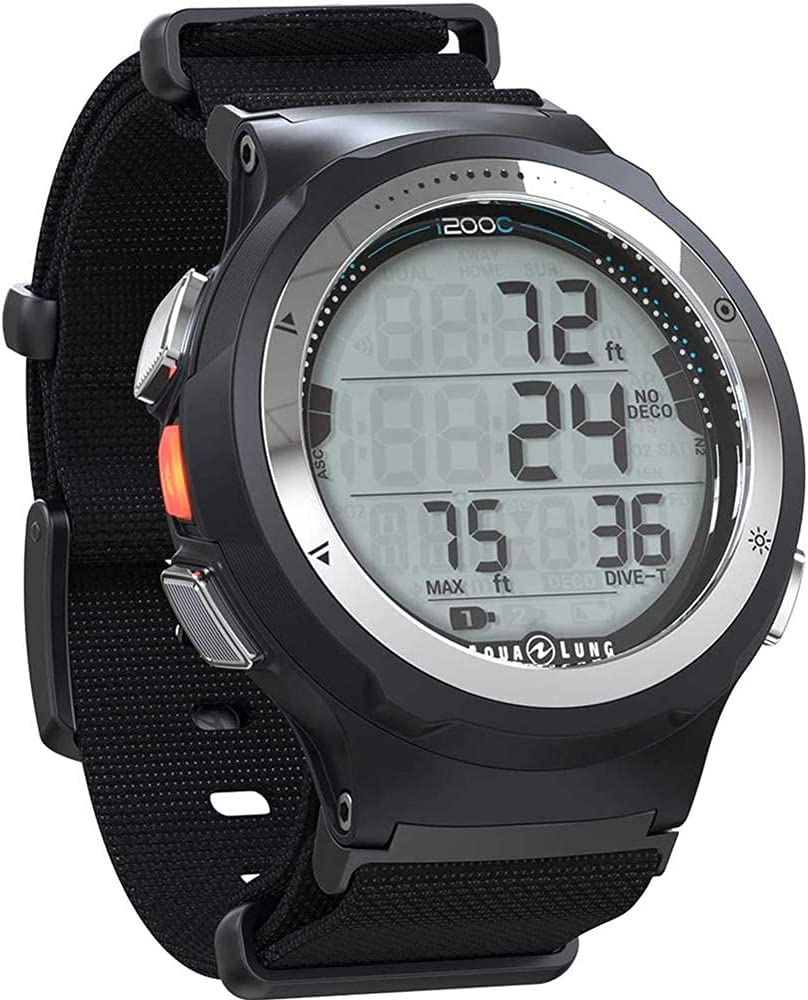 High visibility LED alarm light
4 operating modes
Lightweight
Mixes up to 100% O2 with no restriction
Easy to change the battery
Decompression Algorithms
Tracks calculations 
It is designed with an easy-to-read, high-contrast, full-color display, making it effortless to read under the water. With its intuitive interface, this allows you to navigate through settings and operational modes smoothly, enabling quick access to important diving information such as current depth, maximum depth, no-deco time, decompression status, and battery life.
Not to forget, the user-replaceable standard battery gives you up to 300 hours of dive time and can be easily changed wherever you are. It also has a data retention feature, which maintains your settings and calculations even when you switch the battery.
Whether you're a beginner stepping into the thrilling world of diving or an experienced diver looking for a dependable yet straightforward dive computer, the Aqua Lung i200C Dive Computer is your perfect underwater companion. You can also check our full Aqualung i200C Review.
2# Garmin Descent G1
As a runner-up for the best dive computer for beginners, we present the Garmin Descent G1 Rugged Dive Computer. This dive computer is designed for adventurers who seek a durable and versatile device to enhance their diving experiences.
Key Features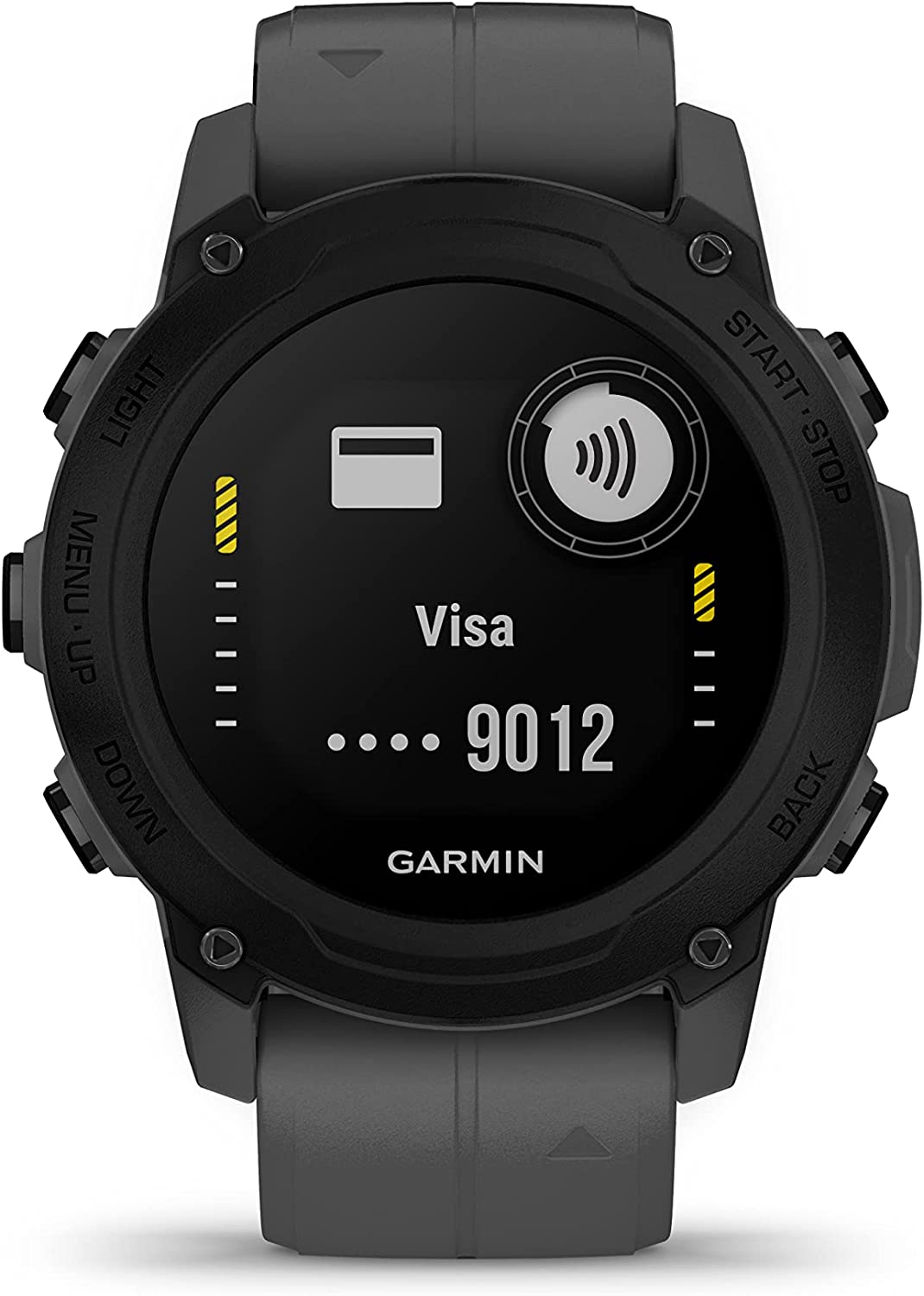 Multiple Dive Modes
High-Resolution Display
Wireless Connectivity
Advanced Safety Features
Wearable4U Bundle
Durable Battery Life
Rugged Construction
It boasts a rugged and robust construction, making it suitable for both recreational and technical diving. It offers multiple dive modes, including single-gas, multi-gas, gauge, and apnea, catering to a wide range of diving styles and preferences. With its comprehensive features, this dive computer accommodates divers as they progress in their skills and explore new diving challenges.
Featuring a clear and high-resolution color display, the Garmin Descent G1 ensures excellent readability, even in various lighting conditions underwater. The intuitive menu system and user-friendly interface make it easy to navigate through the dive computer's functions, providing quick access to essential dive information.
When purchasing it, the Wearable4U Bundle includes additional accessories to enhance your diving experience. The bundle typically includes a screen protector, a protective carrying case, and a charging cable.
3# Cressi Leonardo
If you're looking for a dive computer that offers excellent value for money without compromising on quality, the Cressi Leonardo Underwater Diving Computer is an outstanding choice. Produced by Cressi, a brand known for its commitment to quality since 1946, this dive computer combines affordability with reliability.
Key Features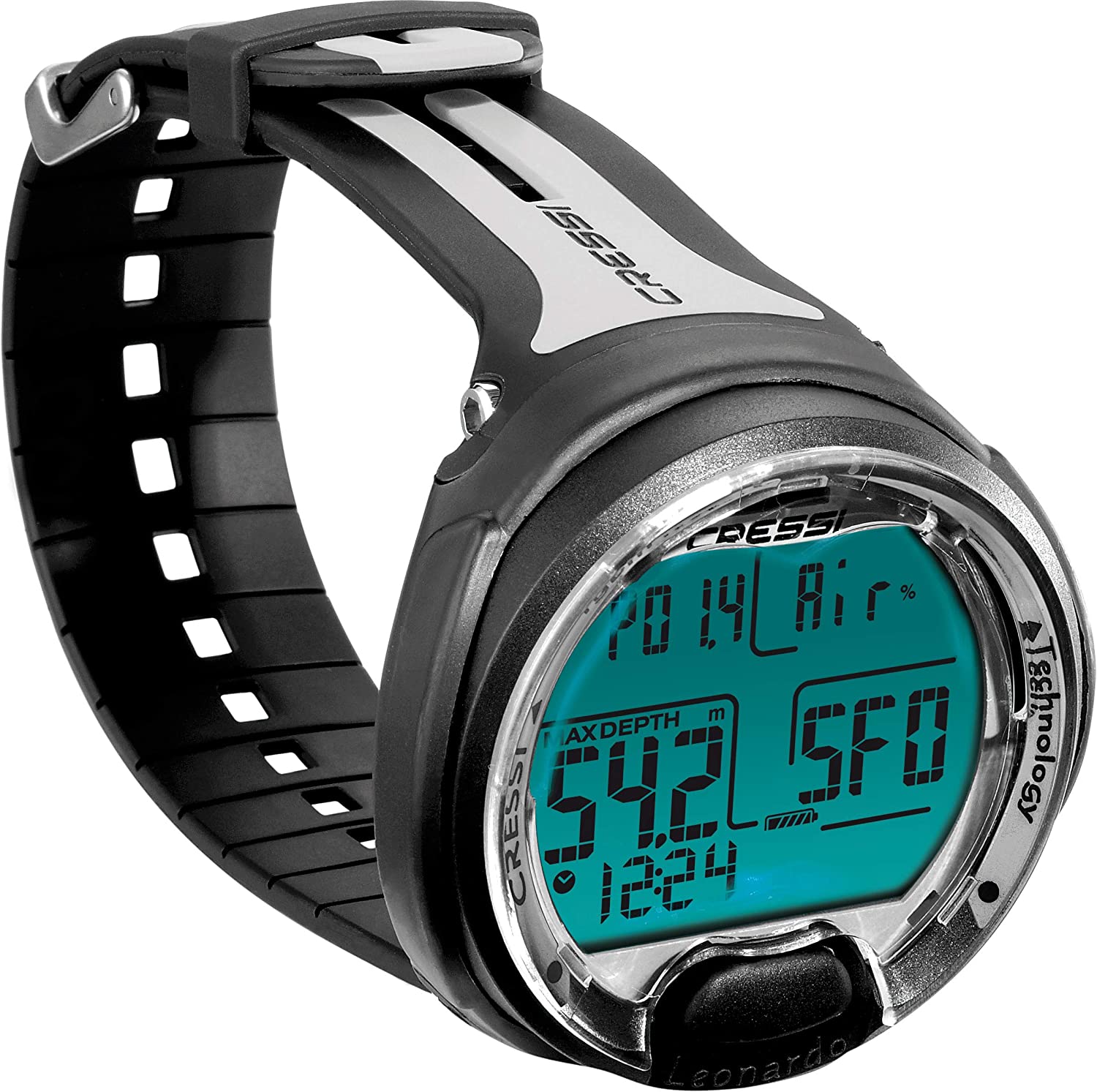 Single Button Interface
Compact and Lightweight Design
Clear Display
Multiple Dive Modes
Safety Stop
Audible and Visual Alarms
Long Battery Life
It features a user-friendly single-button interface, allowing beginners to navigate effortlessly through its functions. Despite its simplicity, it offers advanced features that cater to the needs of recreational divers. The backlit display ensures clear visibility, even in challenging diving conditions, and the intuitive menu structure makes it easy to access dive information and settings.
Designed and manufactured in Italy, the Cressi Leonardo boasts superior craftsmanship and durability. Its robust algorithm ensures accurate decompression calculations, prioritizing diver safety. Whether you're diving with air or nitrox, this dive computer provides essential information to help you stay within safe limits. It also offers gauge mode, which allows you to use the computer as a depth gauge and timer.
While lacking wireless connectivity, the Cressi Leonardo remains a reliable and cost-effective choice. Dive data can be easily accessed directly on the computer, allowing for straightforward dive profile review. This traditional approach to data management simplifies the process and eliminates the need for additional accessories. If you are interested in reading about it, then you can check Cressi Leonardo Review.
4# SEAC Driver
The SEAC Driver Wrist-Mount Dive Computer is a feature-packed device designed to meet the needs of beginner divers. With its sleek and compact design, this dive computer fits comfortably on your wrist, providing essential dive information at your fingertips.
Key Features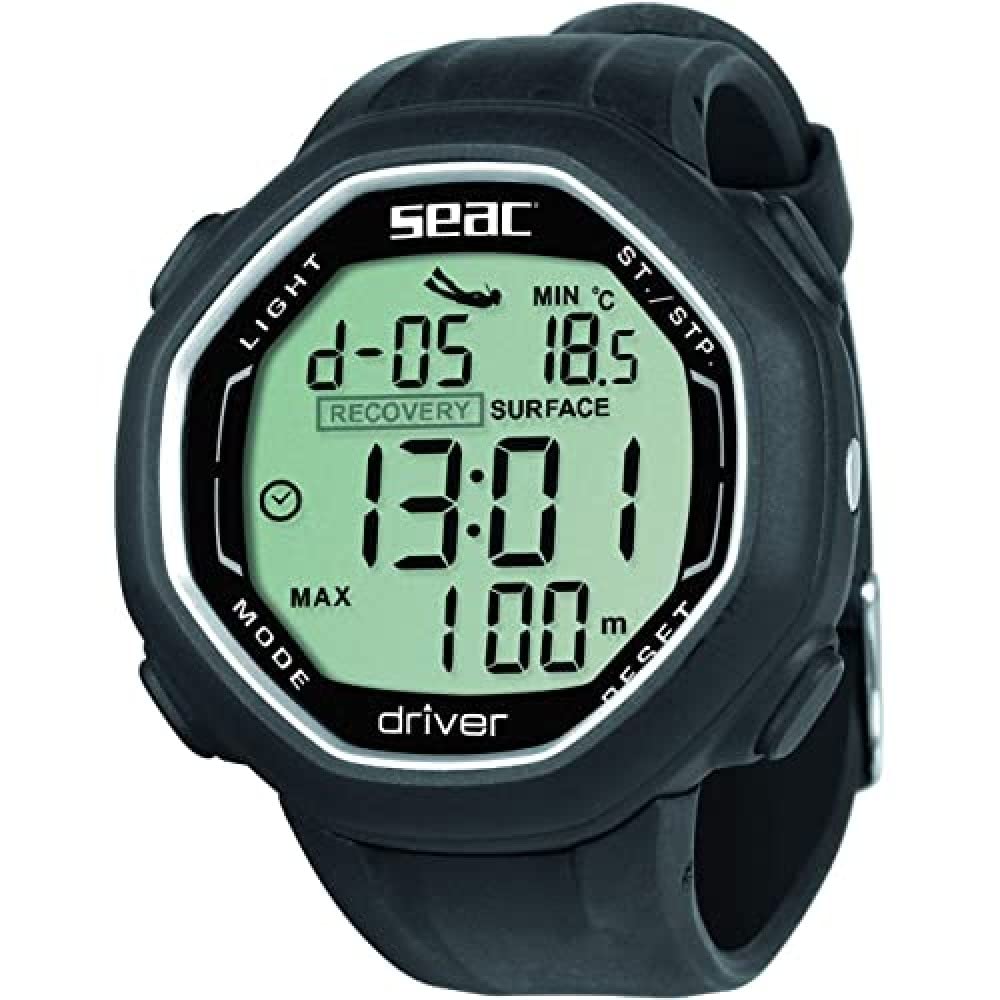 Dedicated Freediving Mode
Data Download System
Compact and Lightweight Design
Intuitive User Interface:
Rehydration Alert
Big Logbook Memory
It offers a user-friendly interface with intuitive navigation, making it easy to access dive data and settings. The clear, backlit display ensures readability in various diving conditions, even in low-light environments. The single-button operation simplifies menu navigation, allowing for hassle-free interaction underwater.
Equipped with a data download system, it enables divers to transfer their dive information to a computer or smartphone. This feature provides the convenience of storing and analyzing your dive logs, tracking your progress, and sharing your underwater adventures with others.
With its durable construction, the SEAC Driver is built to withstand the demands of diving. Its water resistance rating ensures it can accompany you on various underwater adventures. The long-lasting battery provides extended dive time, and the battery life indicator allows you to monitor the remaining power.
5# Suunto D4F
The Suunto D4F Freedive Computer is a top choice for beginner freedivers who want a reliable and feature-rich device to enhance their underwater experiences. Created by Suunto, a reputable brand known for its expertise in dive technology, this dive computer offers a range of functions specifically designed for freediving.
Key Features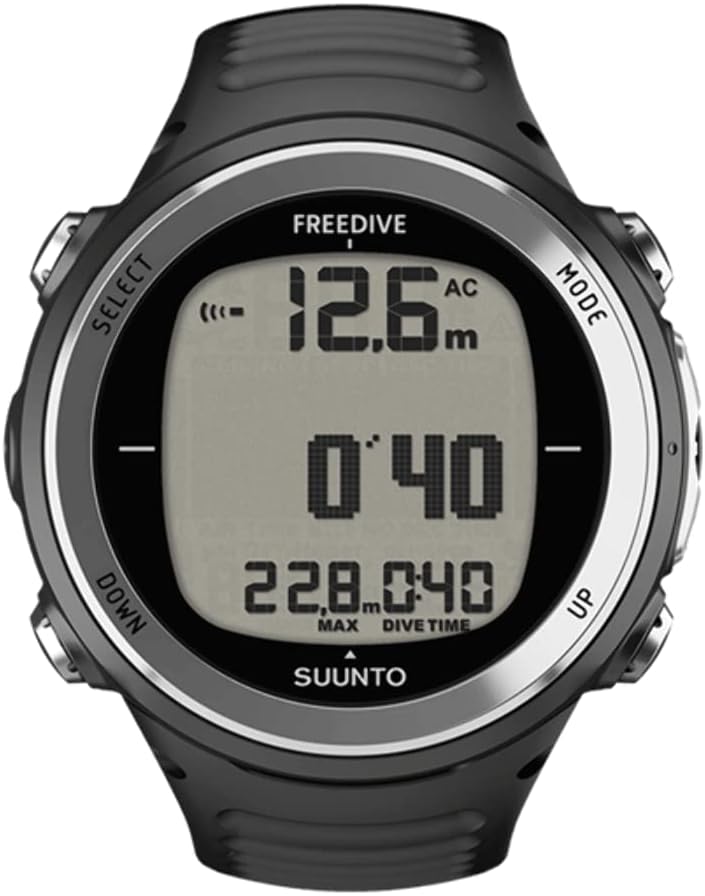 Perfect for freediving
Lightweight
Apnea timer
Support multi dives modes
Depth and Time Measurements
Safety Alarms
Dive Log
Backlit Display
User-Replaceable Battery
Featuring a sleek and stylish design, the Suunto D4F is comfortable to wear on your wrist, allowing for unrestricted movement while diving. The clear and easy-to-read display provides essential dive information, including depth, dive time, and surface intervals. With its intuitive user interface, navigating through the menus and accessing data is a breeze.
It offers dedicated freedive modes, allowing you to track your dives accurately. This provides real-time depth and dive time measurements, as well as surface intervals, so you can monitor your progress and stay within safe limits. The built-in apnea timer helps you optimize your breathing techniques and improve your diving performance.
Safety features are paramount in the Suunto D4F. The dive computer monitors your ascent speed and alerts you if you exceed the recommended rate, reducing the risk of decompression sickness. It also provides audible and visual alarms to indicate depth and time limits, ensuring you stay within your comfort zone and adhere to safe diving practices.
6# Mares Smart Apnea
The Mares Smart Apnea Dive Computer is a high-performance device specifically designed for freedivers and spearfishers. Mares, a trusted brand in the diving industry, has created a dive computer that offers advanced features to optimize your apnea diving experience.
Key Features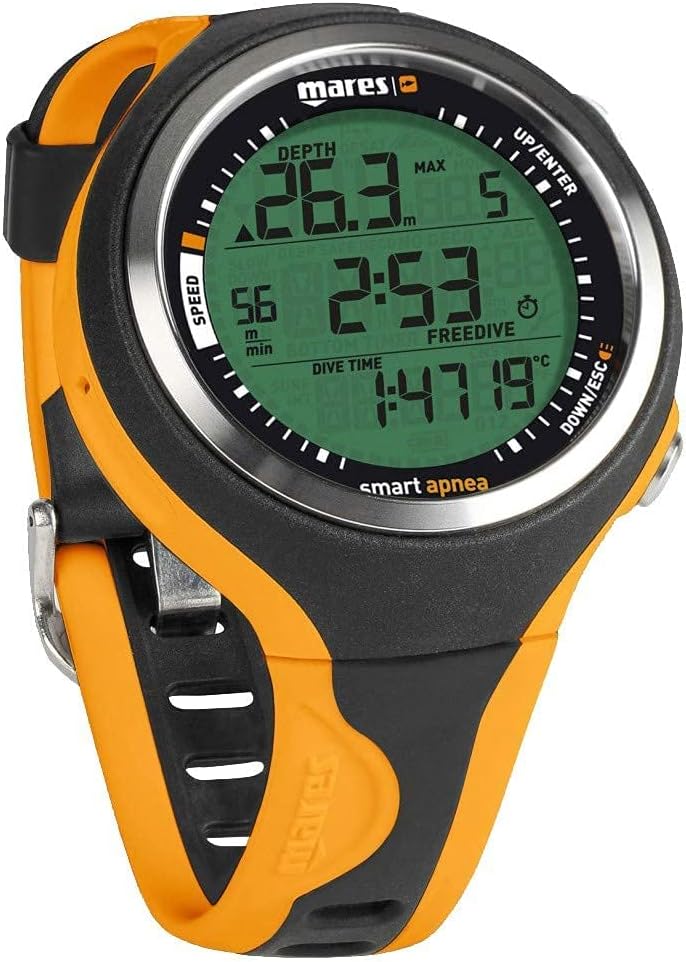 Beautiful color theme
Apnea Mode
Surface Interval Display
Stopwatch and Countdown Timer
Backlit Display
User-Friendly Interface:
Long Battery Life
With its sleek and compact design, the Mares Smart Apnea is comfortable to wear on your wrist, providing you with essential dive data in a clear and easily readable format. The high-contrast display ensures excellent visibility, even in challenging diving conditions. The user-friendly interface and intuitive menu navigation make it effortless to access dive information and settings.
The dive computer provides visual and audible alarms to alert you when reaching predetermined depth and time limits, ensuring you stay within safe parameters. The adjustable countdown timer helps you plan your dives effectively, while the surface recovery time feature helps you optimize your breathing and rest periods between dives.
The Mares Smart Apnea also offers a logbook function, allowing you to store and review your dive data. This feature enables you to track your progress, analyze your dives, and make adjustments to improve your performance over time.
7# Cressi Goa Dive Watch
The Cressi Goa Dive Watch Computer is a versatile and reliable dive computer that doubles as a stylish wristwatch. Crafted in Italy by Cressi, a renowned brand with a long history of producing high-quality diving equipment, this dive computer offers an array of features suitable for beginner and advanced divers alike.
Key Features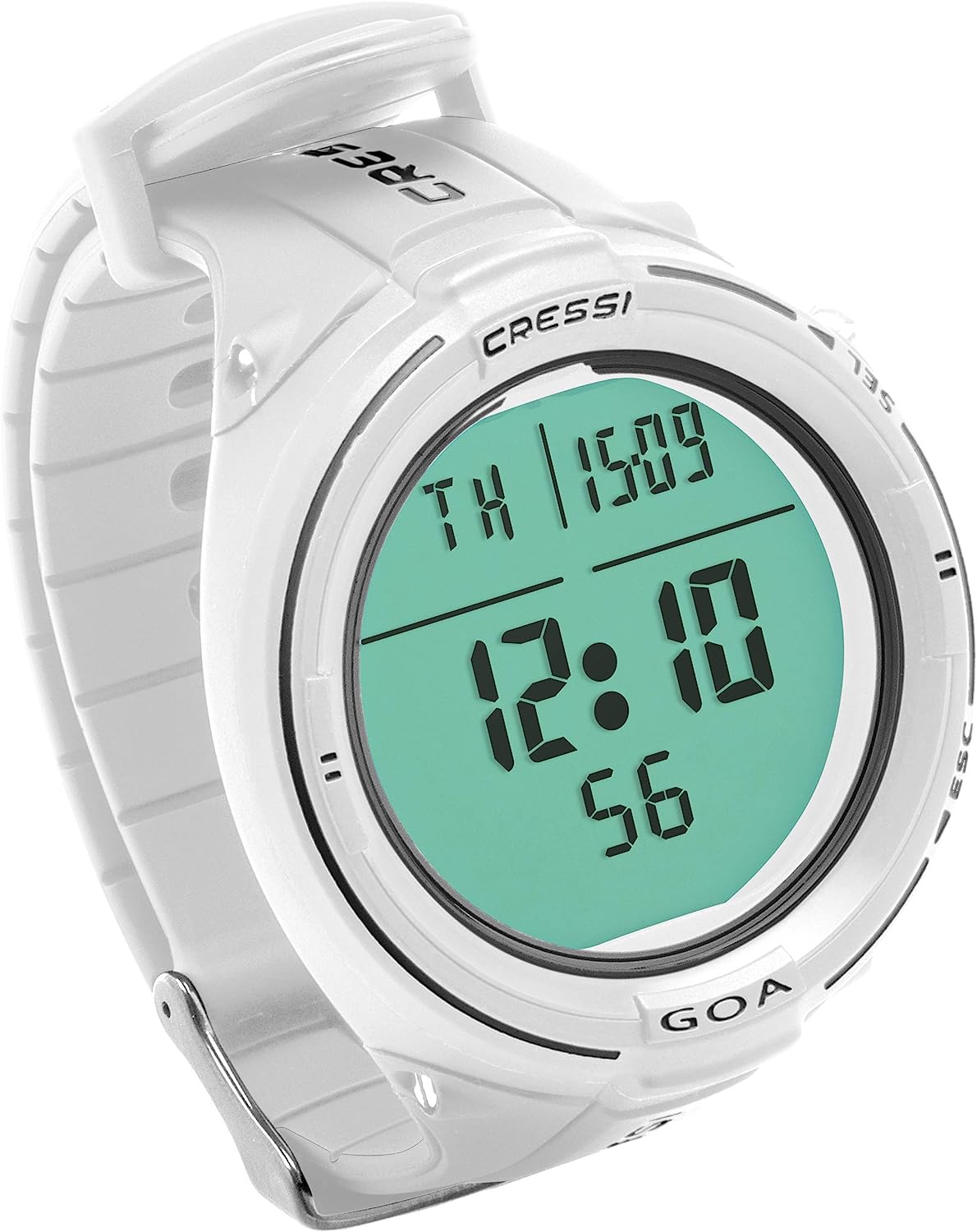 Faster CPU
Supports four dive modes
Intuitive Interface
Logbook and Memory
Deep Stop Function
Alarms
Made in Italy
It features a sleek and modern design, making it a fashionable accessory both underwater and on land. With its clear and easy-to-read display, you can easily access important dive information, including depth, dive time, and decompression status. The intuitive menu navigation ensures hassle-free interaction, even in challenging diving conditions.
This dive watch computer offers four dive modes to accommodate different diving styles. The Air/Nitrox mode allows for easy tracking of dive parameters when using standard air or enriched air nitrox mixes. The Freediving mode provides accurate measurements for apnea and breath-hold dives. The Gauge mode allows you to use the Goa as a depth gauge and timer, ideal for technical divers. Additionally, the watch function displays the time and date when you're not underwater.
Crafted with durability in mind, the Cressi Goa is made to withstand the demands of diving. It features a reinforced case and scratch-resistant mineral glass, ensuring longevity even in rugged underwater environments. The water resistance rating of up to 120 meters (394 feet) guarantees reliable performance during your dives.
Understanding Dive Computers: The Basics
Dive computers are devices used by divers to measure the time and depth of a dive. The computer continuously calculates the safe ascent profile during the dive, allowing divers to extend their dive time and ensure safety.
For beginners, ease of use, readability, and essential features are the most crucial factors. Let's dive into the key considerations to guide your purchase.
Things To Consider While Buying The Beginner Dive Computer
When choosing a dive computer for beginners, there are several key features that you should consider to ensure you make the right choice. Let's take a closer look at each of these features:
Display and Interface:
The display and interface of a dive computer are crucial for easy readability and navigation. Look for a dive computer that offers an easy-to-read display with clear and large digits. A backlit or color display can significantly enhance visibility underwater, especially in low-light conditions. The user interface should be intuitive and user-friendly, allowing you to access information and navigate through menus effortlessly.
Dive Modes and Functions:
As a beginner, it's important to have a dive computer that offers essential dive modes and functions. Look for a dive computer that provides basic dive modes such as air, nitrox, and gauge. These modes allow you to track important dive parameters, including depth, time, and remaining bottom time. Additionally, make sure the dive computer has reliable decompression algorithms that calculate your decompression limits accurately. Safety features such as safety stop and ascent rate monitoring are also important to prevent decompression sickness. Consider a dive computer that offers a deep stop option, which can further enhance your safety during ascent. Audible and visual alarms are valuable features that alert you to critical dive conditions or violations, ensuring you stay within safe limits.
Gas Integration:
As you progress in your diving skills, you may find yourself engaging in multi-gas dives. In such cases, having a dive computer with gas integration capabilities can be beneficial. Gas integration allows you to monitor tank pressure and provides real-time information about your gas consumption. Some dive computers also offer gas switching capabilities, which enable you to switch between different gas mixtures during your dive. This feature is particularly useful for technical divers or those using enriched air nitrox.
Connectivity and Data Management:
With advancements in technology, many dive computers now offer wireless connectivity options. Consider a dive computer that supports Bluetooth or NFC connectivity, as this allows you to transfer dive data to your computer or smartphone easily. Some dive computers are compatible with diving apps or software, enabling you to analyze your dives in more detail, track your progress, and maintain a digital logbook. Having the ability to manage and review your dive data conveniently can enhance your overall diving experience.
Battery Life and Charging:
The battery life of a dive computer is an essential consideration, especially if you plan to do multiple dives in a day or on a trip. Look for a dive computer with a long-lasting battery that can withstand your diving needs. Some dive computers offer rechargeable batteries, allowing you to conveniently charge them using a USB cable or docking station. Others may have replaceable batteries, which can be useful for extended trips where recharging options are limited. Additionally, a dive computer with a battery life indicator helps you monitor the remaining power and plan accordingly.
Design and Durability:
The design and durability of a dive computer are crucial factors, as they determine its comfort, portability, and longevity. Consider a dive computer that has a compact and lightweight design, as this will be more comfortable to wear on your wrist or attach to your console. Ensure that the dive computer has an adequate water resistance rating, allowing it to withstand the depths you plan to dive. Look for a dive computer with robust construction, as it needs to withstand the rigors of diving and potential impacts.
Note: By carefully considering these key features, you can choose a dive computer that meets your specific needs and enhances your diving experience as a beginner. It's important to prioritize safety, ease of use, and reliability when making your selection. Reading reviews, seeking advice from experienced divers, and testing the dive computer before purchasing can provide valuable insights to help you make an informed decision. Remember to always familiarize yourself with the chosen dive computer's manual and features before diving to maximize its benefits and ensure a safe and enjoyable underwater adventure.
Tips for Choosing the Right Dive Computer
Choosing the right dive computer is an important decision, especially for beginners. Here are some tips to help you make an informed choice:
Consider your diving needs and experience level:
Before purchasing a dive computer, evaluate your diving needs and experience level. Are you a recreational diver planning to dive mainly in warm waters? Or are you interested in technical diving or diving in different environments? Understanding your diving goals and requirements will guide you in selecting a dive computer with the appropriate features and capabilities. Beginners typically benefit from dive computers with basic functions that are easy to understand and operate.
Budget considerations:
Determine your budget range for a dive computer. Prices can vary significantly based on the features and brand. It's important to strike a balance between your budget and the features you need. Remember that safety should be a top priority, so allocate a reasonable budget to invest in a reliable dive computer that meets your requirements.
Read reviews and user feedback:
Researching online reviews and user feedback can provide valuable insights into the performance and reliability of different dive computers. Read reviews from trusted sources and forums where experienced divers share their opinions. Look for comments on ease of use, accuracy, durability, and customer support. This information can help you narrow down your options and identify any potential issues with specific dive computers.
Seek advice from experienced divers or instructors:
Experienced divers or diving instructors can offer valuable guidance when selecting a dive computer. They have hands-on experience with different models and can provide insights based on their personal experiences and the experiences of other divers they know. Reach out to diving communities, clubs, or forums to seek recommendations from those with more extensive diving experience.
Test the dive computer before purchasing:
If possible, try out the dive computer before making a final decision. Visit a local dive shop or attend diving events where you can handle and interact with different dive computer models. This hands-on experience allows you to assess the user interface, display readability, and overall comfort. It's important to choose a dive computer that feels comfortable on your wrist or console and is easy to navigate, ensuring you can use it confidently during your dives
Final Thoughts
After careful consideration and evaluation, we believe that the Aqua Lung i200C Dive Computer stands out as the best choice for beginners. Its user-friendly interface, reliable performance, and intuitive features make it an ideal companion for those starting their scuba diving journey. Happy Shopping!
FAQs
1. What features should beginners look for in a dive computer?
For beginners, user-friendliness and simplicity are key factors to consider. Look for a dive computer with an intuitive interface, easy-to-read displays, and straightforward navigation. It should offer essential features like depth and time measurements, audible alarms, and a clear visual display. Additionally, features like a dive log, surface interval display, and safety alarms can greatly enhance the diving experience for beginners.
2. Can beginners use advanced dive computers?
While advanced dive computers offer a wide range of features and functionalities, they can sometimes be overwhelming for beginners. It is generally recommended for beginners to start with dive computers specifically designed for their skill level. These computers often have simplified displays and user-friendly interfaces, making them easier to understand and operate. As beginners gain experience and confidence in their diving skills, they can gradually transition to more advanced dive computers if desired.
3. How important is it to receive training on using a dive computer?
Proper training on using a dive computer is crucial for beginners. Dive certification agencies often include dive computer training as part of their courses, ensuring that divers understand how to use the device effectively and interpret the data it provides. Training helps beginners become familiar with the various features, alarms, and settings of their dive computer, allowing them to make informed decisions during their dives and maximize the benefits of the device.